Chair
Marie Grisham
cshatrap@yahoo.com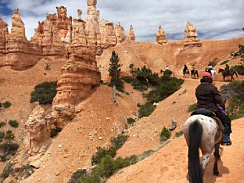 The Trail Riders Awards Program was established in 1988 to recognize and honor the trail rider who is the foundation of the California State Horsemen's Association (CSHA) and to encourage the use and maintenance of riding and hiking trails by the members of CSHA.
Riders keep track of the number of HOURS they trail ride or work on trail maintenance or construction and send a copy of the log to the program chair. It's that simple! It does not matter how far or fast you go, just the number of hours you spend on the trail. Any time spent out on the trails, whether alone or in a group, counts toward awards. Also counted is any time spent on trail maintenance or construction.
Visit the CSHA T.R.A.P. website for more information.
November 2016 T.R.A.P. Newsletter
September 2016 T.R.A.P. Newsletter
July 2016 T.R.A.P. Newsletter